We love it when we come across talented paper crafters, and when they turn out to be passionate about Pion Design papers we of course have to let them join our Design Team!
Meet Pamellia Johnson, our new Design Team member: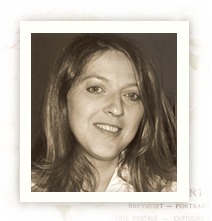 Hello Everyone! My name is Pamellia Johnson and I live on Lake Aquitaine in Mississauga, Ontario, Canada with my wonderful husband, our two little girls, Scully (a teacup Maltese) and Pebbles (a teacup black Pomeranian), and a family of adorable squirrels as well.
I have been crafting in some form or another ever since I was a little kid, thanks to my very creative and talented Mom. I've dabbled in all sorts of crafts, but I think what I enjoy making the most is handmade cards, and I really love doing shabby chic style cards with tons of laces, pearls and flowers!
I have recently discovered the world of designer papers. All those soft colours, dainty patterns and beautiful imagery make crafting an absolute delight! Thank you so much to the Pion Design Team for welcoming me into their family. I look forward to this next leg of my crafting adventure.
Welcome to visit my blog!

Hello Everyone!
I would like to share this Easter card with you starring these lovely Easter chick images and papers from the Easter Greetings collection.
I just adore these sweet images!
Pion products:
Easter Greetings – Images From the Past PD1614
Easter Greetings – Angel of Spring PD7003
Easter Greetings – Tags PD7018
Easter Greetings – Borders PD7016
Easter Greetings – Easter Morning 6″x6″ PD7019