We are up for a fabulous year with an amazing Design Team, and it's time that we get to know more about these talented paper crafters. Today we want to present Mona Vestpåsveen, one of the new members of
Pion Design Team 2015!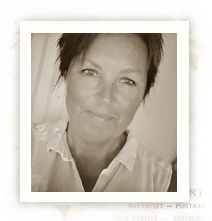 Hello, My name is Mona. I come from a small town in Norway called Raufoss. I am 48 years old and live together with the man of my life and we have two children together. I work at the best place I can think of, LYKKE , a store for yarn and hobby, and I think the name says it all. I'm so glad having the opportunity to be creative both at home and at work.
I have been into scrapping for many years and I love spending time in my crafting room. I enjoy creativity in many different ways, but paper crafting is what I love the most. I started out making layouts, but these last couple of years I have turned more into making cards. Shabby is the best description of my style and I love soft colors, although I must admit that I love trying new things and challenges.
To see more of my work you are welcome to visit my blog: http://monavscrappeblogg.blogspot.se/
 Here is a project that I have made from the blue toned papers of the My Beloved Son collection.
Have a beautiful day!
/Mona
Pion products:
My beloved son – Edvin's world PD5506
My beloved son – Albin's zeppelins PD5505
My beloved son – Bluebell PD5508