Sometimes we come across talented paper crafters that we just know would make a perfect match to our fabulous Design Team. Today we want to present Lisa Griffith, a passionate paper crafter who will be staying with us for the rest of the year. We are convinced that she will bring us plenty of inspiring Pion Design projects!
Hello my name is Lisa Griffith and I live in the United States with my husband and my seven year old son, Liam.  I started scrap booking when my son was born and it has become a passion for me. I have loved photography ever since I can remember and I am a serial photo-taker ;).
I adore antiques and anything vintage and I love to scrap old family photos to try to preserve their memories. I have different styles depending on the mood of the layout, I like to create very girly shabby projects with lots of flowers and gems but I also love to get really messy and grungy with lots of paints, mists, stamping and splashed inks.
I currently design for Blue Fern Studios and The Scrapbook Diaries.
I would love it if you would visit my blog.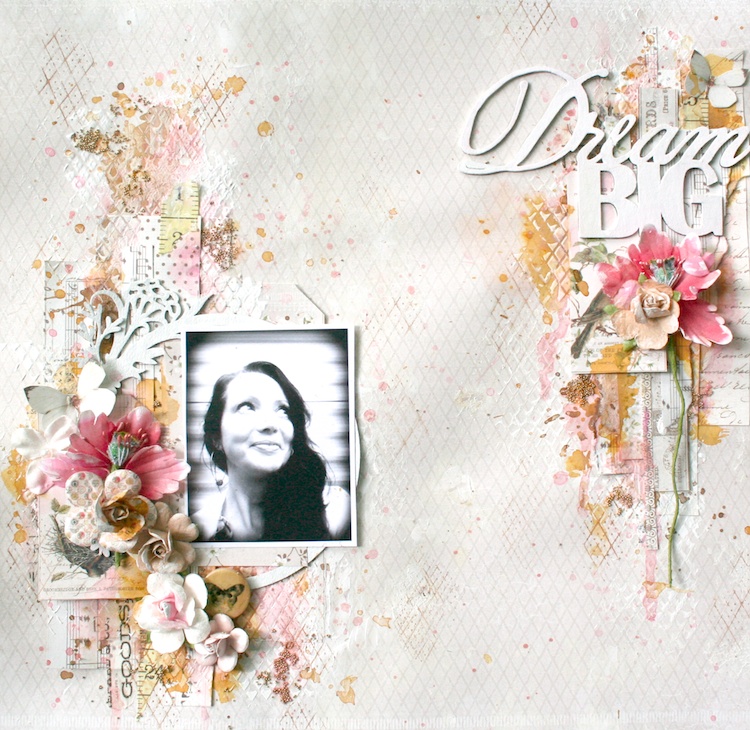 Hello there!  I am so pleased and honoured to be part of the Pion Design team! For my first project I have created a soft shabby layout about big dreams using the beautiful 'A Day in May' collection.
Until next time, Lisa
Pion products:
A Day in May – Writings – PD4406
A Day in May – Tags PD4412
A Day in May – Borders PD4410