Today we are glad to present the most recent addition to our Design Team, Ewa Mrozowska! We are so glad that she is staying with us for the rest of the year, and we are certain that she will bring us plenty of crafting inspiration!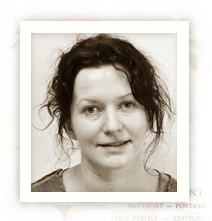 Hi, my name is Ewa Mrozowska. I live in Poland, I'm wife and mother of three and I love to work with paper and mixed media and especially with a variety of vintage findings from flea market.
It's an amazing experience for me to be a part of such a remarkable  Design Team as Pion Design's.
Blog: Cynkowe Poletko
Here is my first project with the A Day in May collection.
Pion products:
A Day in May – Tags PD4412
A Day in May – Blooming branches PD4404
A Day in May – Lady PD4402
A Day in May 6×6″ – Tags PD4506