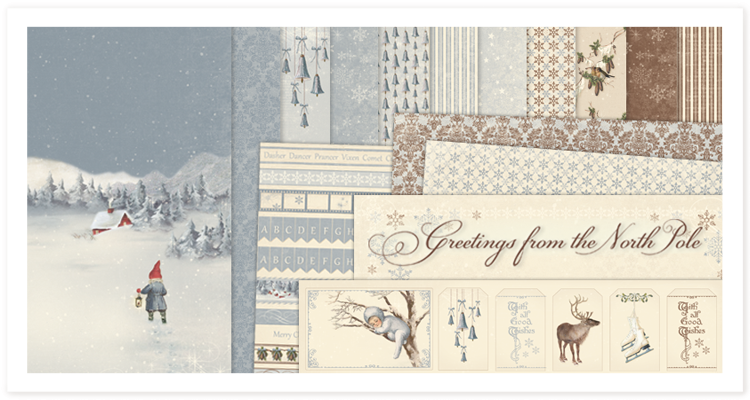 This year Pion Design wants to share the magic of winter and Christmas with the paper collection
Greetings from the North Pole. This collection invites you to a winter wonderland where you can immerse yourself in the beautiful scenery and surroundings of the home of Santa. You can almost hear the sparkle of the Northern Lights and the bells of Santas reindeer as Greetings from the North Pole captures the peace and serenity of the season. All the splendid patterns and images of Christmas bells, snow flakes and magical landscapes will make crafting memorable gifts and home decor a treat!
Greetings from the North Pole consists of 13 papers in the size 12×12", including one image sheet,
as well as 4 single sided papers in 12×12" with 4 designs in 6×6".

The collection Pion Design Palette has also been updated with 4 new sheets. This way you are certain to find a matching heavier weight paper to all of your upcoming projects.

We are also glad to let you know that the popular image sheets from the collections Paris Flea Market, My Precious Daughter and Scent of Lavender are now back in stock, within the collection Images from the Past.